310.499.4950
joe@focuscenterfitness.com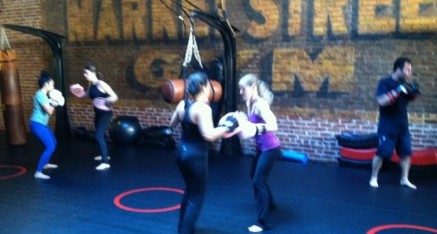 Aside from offering excellent Personal Training in Santa Monica, Joe Rivera conducts a fun, high energy Boxing class three days a week. This is a class as close to reality as it gets! We don't listen to music that is sped up to sound like the chipmunks.  We don't have an eight count to match our movements to the music.  We don't punch and kick the air.  We don't wrap our hands because it looks cool, we wrap because we hit real targets…HARD!!!  The music is only there to inspire and even though it is played loud, it is barely ever heard over our own pounding hearts or our labored breath. We hit actual targets because in that there is TRUTH… truth about distance, leverage, accuracy and power.  The movements are as unpredictable as they are purposeful.  This class is about Focus, knowledge, and cultivating the highest level of fitness.  It is also about courage… courage to continue moving even though you feel like you cannot, courage to break free from preconceived self limitations, courage to submerge yourself fully in the NOW and courage to push yourself beyond the "KNOWN".
The class is dynamic, the pace is intense and fast.  What you learn is empowering and sometimes profound.
No…this class is not like any other class.  But these are just words.  Don't take OUR word for it…try the class for yourself.  FIRST TIME IS ON US!
If you have been searching for more out of a fitness class.  If you want to take your personal fitness to a whole new level…look no further.  You have found the class you've been looking for!
KickBoX Burn/L.A. BoX Camp
KickBoX Burn/L.A. BoX Camp is a class created by Joe Rivera to teach the combative art of Boxing. This class is super-intense,emphasizes proper execution of techniques, and utilizes training drills used by world champion Boxers.
MissionTo help participants reach down deep and bring out the Warrior that lives in each of them!!!
All classes on temporary hiatus.
EMAIL: joe@focuscenterfitness.com
FOUNDED: By joe rivera