How to Get a Great Workout in a Hotel Room
By Joe Rivera, eHow Contributing Writer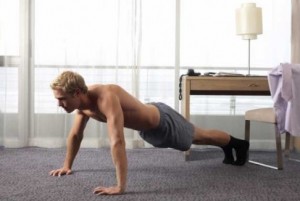 When traveling, one of the biggest obstacles for many is how to continue a workout program. Often times, hotels have poorly equipped gyms or no gym at all. Then there is the hotel-in-the-middle-of-nowhere factor. In those cases, even catching a nice 3-mile run might become a hassle. What if you are pressed for time and only have an hour to train, have a meal, shower and then be ready for a meeting?
My experience training the rock band Counting Crows while on tour has afforded me the opportunity to witness all of these scenarios-and far too many times, I might add. Being that necessity certainly is the mother of invention-I was forced to come up with several workout routines that provide an optimal workout with no equipment and little or no room.
Here are the steps to my most basic one. I call it the JJPS (Jumping Jacks, Push-Ups, Sit-Ups) drill. This one can take anywhere from 10 to 45 minutes, depending on how far you can go.
Instructions
Things You'll Need:
• 4×6 feet of floor space
• Discipline
• Focus
1. Step 1
Do a set of five jumping jacks.
2. Step 2
Drop down and do a set of five push-ups.
3. Step 3
Flip over and do a set of five ab crunches.
4. Step 4
Repeat the series again, this time doing 10 of each exercise.
5. Step 5
Continue to repeat the series and continue to increase the repetitions of each exercise by five.  Continue if you can, until you get to 20 or so, then work your way back down the same way in increments of five.
Tips & Warnings
• Make sure to breathe.
• Stay focused.
• Make your transitions from one exercise to the other as efficiently as possible.
• If ever in Los Angeles, feel free to take any one of my classes for free.