Joe Rivera
Since he started personal training in Santa Monica 15 years ago, Joe Rivera (Focus Center Fitness) has been named "trainer to the stars" as well as trainer, to the trainers of the stars" by Shape Magazine. He has been featured in magazines such as Time, Conde Naste, Hollywood Life, Variety and Maxim. He has also been featured on KTLA, the Learning Channel's Slice of Life and Late Night with David Letterman. Joe is the creator of the highly popular L.A. BoxCamp and Yoga Burn classes (both taught in Los Angeles and Europe) and is sought after for his fitness consulting by a variety of corporations, Gyms, and Yoga studios.
He is a freelance writer and his articles have been published on Ehow where he is on staff as the Fitness, Martial Arts, Yoga, and Boxing expert. He also has been contracted by Project Breakout as a fitness expert to produce exercise videos that can be seen on the Fitness Channel's homepage.
Joe promotes a balanced and healthy lifestyle by integrating mind, body and spirit in his intense training sessions.  He holds a black belt in Tae-Kwon-Do, was a member of the St. John's University Karate team and has won numerous Martial Arts competitions.  He has been a student and practitioner of the combative arts, including Boxing and Kickboxing  for well over thirty-eight years. With more than twenty years experience as a weight trainer and over a decade as a Yogi, Joe holds certifications from the American Council on Exercise, the prestigious White Lotus Foundation, and is a 500 hour Experienced Registered Yoga Teacher with Yoga Alliance. He is also a certified Gravity GTS personal trainer, Gravity GTS Pilatesinstructor, and TRX fitness instructor.
His clients range from housewives to Playboy Cover Models, weekend warriors to elite athletes, movie execs to movie stars, as well as attorneys, physicians and celebrity chefs.
Joe's work has taken him to exotic international locales, training his clients on set and teaching workshops. He has also traveled the entire country as the Yoga/Boxing/Fitness coach with rock bands like …Counting Crows, John Mayer, Goo Goo Dolls, Collective Soul, Live, and Maroon 5.
Drawing on his expertise from a wide variety of disciplines, Joe's approach to fitness delivers dramatic results for his clients and keeps them motivated to not only reach their personal goals, but to surpass them.
Based in Santa Monica, he is the Founder and Owner of Focus Center Fitness. For more information about classes, rates and availability call 310. 499. 4950
Boxing Bio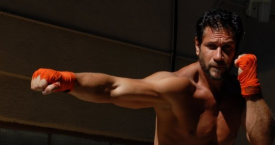 Born and raised in the Housing Projects of East Harlem, Joe's study and practice of the Combative arts began over 38 years ago out of necessity.  He first began studying under martial arts hall of famer and Tae-Kwon-Do Grand Master, Richard Chun, in NYC.  While in college, Joe fought on the St. John's Karate team as a competitor under the supervision of Grand Master and multiple black belt hall of fame recipient, S. Henry Cho.
After working security at some of NYC's hottest night spots, Joe decided to move away from traditional forms of Martial Arts and begin training with Master, Tokey Hill (the first american to win the WKF World Championship and has won more international metals than any martial arts competitor in the United States) on practical street fighting techniques.  He was also training in American Combat (a form of combat developed as a practical fighting system used by the military).
At age 25, he began Boxing with Michael Olajide Sr. at Kingsway Boxing gym, in Hell's Kitchen. For the last 13 years, he's continued his Boxing training at the world famous Wild Card Boxing gym in Hollywood, CA.  Wild Card is owned by Hall of Fame Boxing trainer, Freddie Roach. It is also the training home to World Champion, Manny Pacquiao.  Joe is the creator of KickBox Burn, a class he's taught in the US and throughout Europe. He's also traveled to Europe to teach several Boxing seminars and to certify more than two dozen trainers to teach his system.
What is taught by Joe is only the best of what he has learned from his teachers.  Since most of them are literally Hall of Fame inducted….what you learn with Joe is the best of the best!!!